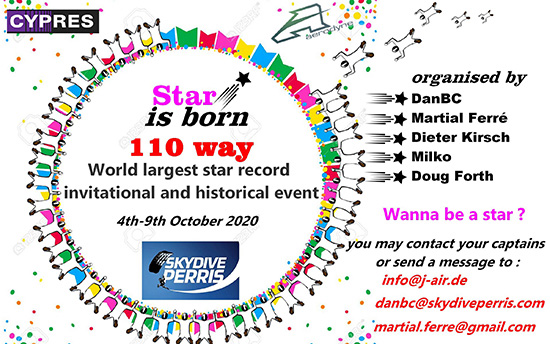 The original and probably coolest freefall formation there is, a big STAR! Not like other formations when you land and don't know if it's complete. The best part of a STAR is when it's done you definitely know it and can see everyone's face!!! Who wants some??? Join us at Skydive Perris for this amazing event. This is only 10 months away so things will be starting to happen quickly. Let us know you're interested by applying today!

Dates: October 4th - October 9th, 2020
This is a Sunday through Friday.
Location: Perris, CA
Please refer to the drop zone website for information about local camping, bunkhouses, and nearby hotels: www.skydiveperris.com/facilities.aspx (click on "Bunkhouse & IHOP" or "Travel & Accomodations").
Complete details will be announced in early 2020. Slots on this event are limited and there is already considerable interest. If you wish to be considered, please apply today! Questions or concerns about your qualifications can be addressed to Dan BC: danbc@skydiveperris.com, Dieter Kirsch: info@j-air.de, Martial Ferre: martial.ferre@gmail.com or Doug Forth: dougforth@bendbroadband.com.